Y llegamos al cumple de JL los primeros.
Para dar la bienvenida a la gente.
La doble vida de JL (profesor universitario de día, bon vivant de noche) hace que en sus saraos siempre se junte una amalgama de gente de lo más particular.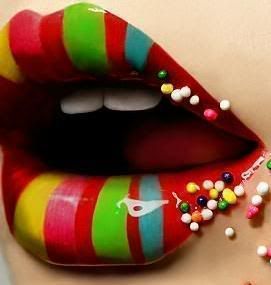 Universitarios, leatherones, opositores, fetichistas...
Juntos y revueltos.
La mitad de sus regalos estaban relacionados con el fetish; un deuvedé de la SEXSTATION, unos brazaletes-grilletes, nuestro cockring... y la otra mitad, libros;
el nuevo de PAUL AUSTER, premios PULITZER varios, etc...
Muchísima comida; tortillas de patata, empanadas gallegas, mediasnoches de cumple de niño rellenas de mortadela con aceitunas... Sangría y COCA-COLA para mí, que como sabeís no bebo.
JL cumplía 29 años y se le notaba un pelín triste de ser la última vez que cumplía años con un dos delante.
Lo cierto es que, si le da por hacer balance, no se puede quejar; niño prodigio de la enseñanza universitaria de alto nivel y autor del best-seller patrio gay del año.
Vamos, yo me daba con un canto en los dientes.
¿De dónde vendrá la expresión "darse con un canto en los dientes"...?. Madre mía, no es gore ni nada...
Uno de los organizadores de la SEXSTATION era muy guapete.
Llegó JAVIER GARCÍA-MONTES, que venía de la FILMOTECA con una hoja de programación. El siguiente jueves echarían LA CEREMONIA, mi película favorita de CLAUDE CHABROL, con JAQUELINE BISSET e ISABELLE HUPPERT.
Como JL no dejaba fumar (tan europeo él, y muy bien que hace) y JAVIER tenía muchas ganas, nos salimos al balcón MIGUEL (AGNES LA SUCIA), JAVIER y yo.
Abajo, unos niños trataban de romper el escaparate de una ferretería a pedradas.
Enfoqué bien la vista y me dí cuenta de que uno de los niños iba en triciclo... !!!.
Vaya, que eran muy pequeños como andar por ahí rompiendo escaparates... tendrían unos cuatro años o así...
De mayores serán unos chulazos.
JAVIER GARCÍA-MONTES nos contó que JAVIER GURRUCHAGA volvía a estar de moda.
Resulta que en la furgoneta de los moros del 11-M encontraron un cassette de LA ORQUESTA MONDRAGÓN y, como Mondragón es un lugar del País Vasco, la policía anda barajando que GURRUCHAGA sea el enlace entre AL QAEDA y ETA.
Pobre GURRUCHAGA... En fín, que esto al menos le sirva para poder publicar algún que otro recopilatorio o, incluso, para hacer un musical en la Gran Vía con sus canciones.
VIEJA CON NOSOTROS.
Por cierto, ¿qué hace GURRUCHAGA que no hace cine, con lo gran actor que es...?. ¿Le visteís en EL REY PASMADO de IMANOL URIBE?.
Si JAVIER GURRUCHAGA tuviera agente en Hollywood, como PAZ VEGA, ahora mismo estaría trabajando con LYNCH, con los hermanos COEN, con SCORSESE y hasta con TIM BURTON.
No sabemos aprovechar nuestros físicos...
Y a la fiesta llegó JULIÁN (MISTERNNY. LA MESA CAMILLA), ANTONIA DELATA, ABSOLUTME... Venían todos como locos del concierto de HILLARY DUFF, que yo siempre he dicho que es la nueva MARILYN.
Parece ser que, contra todo pronóstico, el concierto estuvo lleno. De niñas con sus padres, pero lleno al fín y al cabo.
JULIÁN le preguntó a unas niñas que cómo habían conocido ellas a la DUFF, con lo poquísimo que se la publicita en nuestro país. Las teenagers respondieron que por internet y por la MTV.
Las preguntaron por MADONNA y una de ellas respondió, nada más y nada menos que:
- "Eso es más para gente de vuestra edad...".
Hablando de JULIÁN... Hace un par de semanas me contó que su medicamento favorito era el ESPIDIFÉN. Dice que si te lo tomas antes de acostarte, tras una larga noche de borrachera, al día siguiente te levantas sin resaca.
¿Cómo os quedaís?.
Yo andaba turbado por el hecho de haberme comprado unas sábanas de BENETTON. (50% algodón, 50% poliester). El guapo de la SEXSTATION me dijo que, saliendo del metro de Palos de la Frontera, encontró una tienda con unas sábanas rojas 100& algodón. JAVIER me recomendó una tienda llamada TEXTURA.
Esa noche, en el CÍRCULO DE BELLAS ARTES, había un sarao en el que pincharía M.I.A. y actuarían VIVE LA FÊTE.
Nuestra amiga MARÍA ARCAS llevaba la prensa, pero finalmente se nos hizo un poco tarde y pasamos de ir.
Olímpicamente.
Yo había quedado en el NIKE de Ausgusto Figueroa con JAIME, que andaba de minis con ANDREA, una amiga suya.
Cuando JAIME me contó que estaba con una amiga suya no me la imaginaba así...
ANDREA estudia ingeniería naval porque de pequeña la gustaban mucho los barcos. Físicamente podía ser perfectamente la musa de LA CASITA DE WENDY o de BERNARD WILLHEM. Guapa, flaca y con una expresividad en el rostro que denotaba cierta actividad mental.
Tiene 21 años y parece salida de una de las mejores comedias de WOODY ALLEN.
ANDREA antes trabajaba en el guardarropa del NASTI.
No sabía si llamar a un chico para quedar con él o si esperar a que este lo hiciera por ella. Muy SEX AND THE CITY todo.
Se acabaron el mini.
ANDREA se fue a su casa y JAIME y yo nos fuimos a la mía, que ya era hora.
A la mañana siguiente nos levantamos y compramos EL PAIS SEMANAL, como cada domingo.
- "Ya hemos estado en todos los fast-foods. Tendremos que inventarnos uno...", dijo JAIME.
- "Pues no te queda a tí ni nada, para haber estado en todos los fast-foods...", le espeté.
Y nos metimos en el KONO PIZZA de la calle Mayor, descubrimiento de MIGUEL (AGNES LA SUCIA).
* VUESTROS E-MAILS:
"Hola, solo te escribia para decirte que el otro dia tropecé por casualidad con tu blog... y no sabes como me gusta.
empece a leer por muy atras, creyendome que esa era la historia actual, luego vi ke vamos... ke no estaba puesto en la ultima pagina.
de todos modos ke sepas ke la forma de escrbir ke tienes... me encanta!
sigue asi.
juanjo, valencia".
Canciones del día:
- SONG HAS BEEN de DELETED BY THE ARTIST.
- SERPIENTE CON TACÓN de LORCA.