Y el pasado miércoles no, el anterior, quedé con VERO y con ROBERTO (BOOM BOOM BOY) para ir a los IDEAL a ver PALÍNDROMOS de TODD SOLONDZ (BIENVENIDO A LA CASA DE MUÑECAS, HAPPINESS).
Nada más entrar ROBERTO nos contó que SORAYA (POYEYA) dió un concierto la misma noche que daba un concierto CHENOA en Palma de Mallorca, tierra natal de la segunda.
Teniendo en cuenta que se trataba de la tierra que la vio nacer, todos pensaban que el concierto de CHENOA acabaría estando más concurrido que el de ZORRAYA... pues no.
En el concierto de CHENOA había tres gatos y en el de SORAYA no cabía un alfiler.
Terminaron los directos y ambas coincidieron en la discoteca de unos amigos de CHENOA, de "after show party", y CHENOA, rabiosa perdida e inundada de envidia, hizo que echaran a SORAYA del local y claro, se armó la marimorena.
* PALÍNDROMOS de TOD SOLONDZ.
El JOHN WATERS inteligente.
SOLONDZ, hype cinematográfico de la moda de lo políticamente incorrecto de finales de los noventa, nos demuestra con PALÍNDROMOS (su sexta película ya) que de hype nada.
Ya podemos hablar de la carrera cinematográfica de TODD SOLONDZ.
PALÍNDROMOS continua indagando en la doble moral juseo-cristiana, pero esta vez de un modo fabulístico absolutamente inusual y "no visto". PALÍNDROMOS es un cuento amoral acerca de una niña de doce años cuyo mayor sueño es quedarse embarazada...
El personaje de la niña viene a estar interpretado por seís actrices diferentes, detalle formal que desconcierta al principio para motivar después ya que las actrices que le dan vida son tan profundamente geniales que uno no para de fantasear con cómo será la siguiente; una pelirroja flaca, una negra de cien kilos, JENNIFER JASON LEIGH...
Duro, divetidídimo y profundamente bizarro film en el que os vereís riendo de cosas que supuestamente no deberían tener gracia.
Cine libérrimo donde lo haya y genialidad absoluta.
No os la perdaís.
Mi amigo GUILLERMO ESPINOSA me ha dicho que me meta en www.escuchalallamada.com y que pinche en el móvil que arroja el taxista por la ventanilla antes de que caiga al suelo y que juegue al juego que proponen para que me toque un viaje a Hong Kong para cuatro personas.
Si me toca me voy con JAIME, con FERDI y con VERO. O con JAIME, con ROBER y con MIGUEL... Bueno, lo primero a ver si me toca.
Y ya ha llegado el FESTIVAL DE OTOÑO a Madrid.
Cuentan que este año hay que ver: VSPRS en el TEATRO DE LA ZARZUELA, un espectáculo de danza de ALAIN PLATEL. PLATEL es un coreógrafo y director escénico que mete cosas estupendas en el escenario, como coches de choque, por ejemplo.
Obviamente también habría que acudir, en el supuesto de encontrar entradas, a NEFÉS, último montaje de PINA BAUSCH (recuerdo la vez que fui a ver NELKEN al Teatro real, me quedé muerto en la bañera...), a los 40 ESPNTÁNEOS de LA RIBOT... Al PEER GYNT de IBSEN dirigido por CALIXTO BIEITO!.
Ahora ya solo falta encontrar entradas y que no salgan por un ojo de la cara.
Y también quedé la semana pasada con MISTERNNY, con una amiga suya y con mi novio para ver SNAKES ON A PLANE (me cuesta mucho llamarla SERPIENTES EN EL AVIÓN...).
Esta vez a los cines ACTEÓN de Montera, que es donde hay que ver todas las películas de terror.
* SNAKES ON A PLANE de DAVID R. ELLIS.
SNAKES ON A PLANE es lo que me esperaba, pero multiplicado por quince.
Absurda, mal escrita, divertidísima, repugnante y profundamente macarra.
Cine de sesión doble, serie B de video-estreno del videoclub de la esquina de toda la vida, cine de drive-in, cine basura con todas las letras.
Las serpientes están hechas por ordenador y siempre van a morder a los peores sitios (a una la muerden en un pezón, a otro en la polla...), ELSA PATAKY vestida de gitana rumana le quita el veneno a un niño del brazo con aceite de oliva !!!.
Una macarrada todo, vaya.
La azafata mayor es la madre de familia de DEAD END...
A MISTERNNY y a mi nos gustó mucho (supimos disfrutar con ella, quiero decir), a su amiga un poco también, y a mi novio no le hizo ni puta gracia. Dijo que le gustó más POSEIDÓN... ¿?.
Bajárosla del EMULE, pilladla en el top-manta o esperaros a que salga en DVD. Esta película no hay que verla en cine.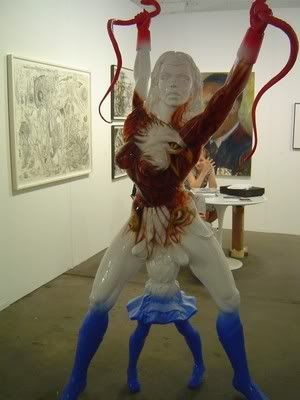 Tras la pelí nos fuimos todos a cenar al KONO PIZZA de la calle Mayor.
Yo me pedi uno nuevo que se llama SPAGNOLO y que lleva chorizo.
La amiga de MISTERNNY nos contó que conocía a una chica que trabajaba en la redacción de CUARTO MILENIO y que una vez fue a una casa encantada y que casi se muere de miedo porque estaba encantada de verdad.
JAIME me habló de la PALOMA DEL PIERCING, que es una paloma muy famosa que vive en Plaza de España y que tiene un hierro clavado en el cuello.
Lo lógico es que estuviera muerta, pero DIOS, por alguna misteriosa razón, ha querido que viva. Hasta MADRID DIRECTO ha ido a grabarla. Si quereís verla podeís ir a Plaza de España, siempre anda por ahí.
Los bakalas son muy de pegar patadas a las palomas, pero a LA PALOMA DEL PIERCING la respetan como a una igual.
Y hace una semana estuve comiendo con mi chico en el BURGER KING de Gran Vía, mientras le echábamos un vistazo a EL PAIS.
Estuve leyendo la entrevista de FANGORIA y me quedé muerto con lo que decían de los osos y de JIMENEZ LOSANTOS...
Pensé: -"Como los osos lean esto...". Con lo fans que son todos de FANGORIA... Me acordé de la escena de CACHORRO en la que los osos montaban una fiesta con música de FANGORIA y me dio un poco de penita...
Por otro lado me parece muy sano que cuestionen el movimiento osil. Ya era hora.
Del tema de JIMENEZ LOSANTOS, mejor ni hablar.
Cuentan que lo que ALASKA le contó a MANUEL CUELLAR acerca de JIMENEZ LOSANTOS durante la entervista fue aún más fuerte...
Parece ser que ALASKA dijo que en este país deberían haber muchos más JIMENEZ LOSANTOS, cosa que el EP3 decidió suavizar a última hora.
Por la noche hicimos una ensalada de pollo y nos pusimos a ver EL JOVENCITO FRANKENSTEIN y TWIN PEAKS mojando DORITOS TEX-MEX en queso PRESIDENT EMMENTAL para untar.
El sábado comimos en el KFC y después fuimos a leer el periódico y a tirarnos un ratito al cesped del TEMPLO DE DEBOD.
JAIME se puso a hacer el sudoku mientras yo leía un artículo sobre una filósofa muy conocida que decía que la muerte era el precio que había que pagar por haber vivido...
Merendamos en el RODILLA de la calle Princesa.
Yo un croissant de jamón y queso.
Y nos metimos en el PALACIO DE LA PRENSA a ver EL LABERINTO DEL FAUNO de GUILLERMO DEL TORO.
Pero eso ya casi que para otro día...
Proximamente en POPYB: EL LABERINTO DEL FAUNO, PARA ENTRAR A VIVIR de JAUME BALAGUERÓ, A LA DERIVA, GONZALO MIRÓ, OUTING OT5, BRICK, YO SOY LA JUANI, y mucho más...
Se acerca Halloween...
Canciones del día:
- ONCE AND NEVER AGAIN de THE LONG BLONDES.
- DO YA de DOVER.