* Ya es primavera (en EL CORTE INGLÉS). El aire huele diferente y la gente está más contenta y más guapa. Ya era hora.
A veces me invaden ataques, en plena calle, de felicidad supina. De repente lo veo todo super-claro y super-fácil.
Sé que no es nada PALAHNIUK lo que voy a decir, pero la vida es maravillosa. Que le den por culo al PALAHNIUK.
* Ahora de after-hour, además de al OMUIÑOS, la gente también va al bar LA SIRENA VERDE de Gran Vía. Ahí se encontraban el domingo pasado por la mañana, tras el COPPELIA: HUGO YANGÜELA, LA BALI, PABLITO (que se ha liado con ORES), ORES, MANOLO PONY, MOISES, ARTURO (ex de HUGO), JORDI, LA PEQUE, muchos "peluchos" y... LAS RUBIAS DE TRUMAN (TRUMAN BLONDES).
LAS RUBIAS donde van la montan fina. En LA SIRENA VERDE también la armaron; cantaron, bailaron sus coreografías, alternaron y pernoctaron ante dicho beneplácito de modernas. Un show, vaya.
* JORDI me dejó el otro día un mensajito por MY SPACE en el que me decía que alguien había intentado atropellar a LIDIA LOZANO al salir de SALSA ROSA...
LIDIA ha descubierto que YLENIA, la hija de ROMINA Y ALBANO, sigue vivita y coleando por Santo Domingo, y va ha conseguir la foto que lo prueba, y por esa foto muchos son capaces de matar. Con deciros que una revista italiana está dispuesta a pagar 300 millones de las antiguas pesetas por dicha exclusiva...
Pobre YLENIA... Si ni siquiera tenemos derecho a desaparecer, ¿qué nos queda?.
* Viendo GH VIP 2 con hambre apareció, de repente, el spot del nuevo KEBAB de TELEPIZZA... Cogimos el teléfono y lo pedimos sin pensar... Carísimo, 7€ cada uno (cuando en los turcos cuestan 3) y con muy poquita cosa dentro (no como los DONER, que le chorrean a uno por los dedos). La única gracia que puede tener este pseudo-kebab radica en que el pan, en lugar de ser el típico pan de pita, está vez es masa de pizza enrollada, rollo calzone. Y eso mola, pero no merece nada la pena. Está soso y los turcos lo hacen mil veces mejor.
* Servidor, comoúltimamente le ha dado por ir siempre rapado, pasa olímpicamente de peluquerías modernillas rollo JUAN, POR DIOS (¿QUÉ ME HAS HECHO?), o LE SALÓN DE APODACA. Bueno, aunque si tuviese el pelo largo casi que también pasaría de ellas...
Yo me corto el pelo en barberías. Antes iba auna que hay en la calle Silva, al lado de MADRID COMICS, pero como el dueño es un gilipollas y un grosero hace tiempo que me cambié a la barbería ANGEL de la calle Barbieri (valga la redundancia). ANGEL es un idem, encantador, y te repasa con navaja que da gusto.
* Quiero que gane BRITO.
* BOBBY y yo cogimos el otro día en el DIURNO ETERNAL SUNSHINE OF THE SPOTLESS MIND, que aquí misteriosamente se ha titulado como ¡OLVÍDATE DE MÍ!, ¿¡!?.
No está mal. A su manera me resultó muy poética y muy romántica, como una canción de LOS PLANETAS. Es la historia de siempre de "chico busca chica-chico encuentra chica-chico pierde chica-chico recupera chica", pero contada de un modo que nunca habíamos visto hasta ahora, dada la vuelta. Y me parece muy loable y arriesgado el que alguien trate de hacer cine a contracorriente, pero... El problema es que creo que KAUFMAN y GONDRY buscan la originalidad de manera excesívamente autoconsciente...
La gracia de las películas de culto es que, al nacer, no saben que lo son. Esta, en cambio, la han hecho expresamente para que sea de culto, y eso para mí hace que pierda muchos puntos. JIM CARREY está sorprendentemente contenido y KATE WINSLET está soberbia, perfecta en cada secuencia... Qué actrizón!.
Bonita, sin tirar cohetes. KAUFMAN empieza a oler...
* ANA OBREGÓN ha comprado los derechos para España de SEXO EN NUEVA YORK... AAAAAAAHHH... ¿Seré capaz de esperar?.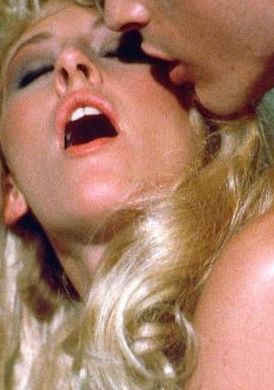 Canciones del día:
- WE ARE ALL GONNA FUCKING DIE de BARBARA MORGENSTEIN.
- BRAVO de BAMBINO.